BACK TO MAIN MENU
TECHNICAL EDUCATION AND SKILLS DEVELOPMENT AUTHORITY, PHILIPPINES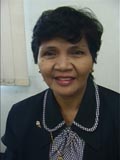 NAME - ROSARIO B. DE VERA, PH. D.
ORGANIZATION - TESDA,PHILIPPINES
ADDRESS - TESDA Complex, East Service Road, South Expressway
Taguig, Metro Manila, Philippines
POSITION - Vocational School Administrator
TESDA-PCF
PHONE NOS. - 063-075-540-0130 TELEFAX -063-075-540-0130

THE TESDA VISION
TESDA is aleading partner and catalist in the development of word-class,technically skilled and educated workers with positive work values acting as the vital force in building a prosperous Philippines where citizens
enjoy a life of greater economic security,social well-being and personal dignity.
THE TESDA MISSION
TESDA takes responsibility for the provision of relevant, high quality technical education and skills
development supportive of the needs of enterprises and the country`s goals through enabling policies,
responsive programs and quality standards.
TESDA integrates and orchestrates multi-sectural and market-oriented efforts among its stakeholders to
respond to the changing demands of the domestic and global environments.
THE TESDA VALUE STATEMENT
We at TESDA believe in leadership through demonstrated competence, institutional integrity, personal
commitment and forward-looking nationalism. We measure our worth by the excellence of systems we
install and their impact on our constituencies.
NATIONAL INSTITUTE FOR TECHNICAL VOCATIONAL EDUCATION AND TRAINING - NITVET
"Gearing towards becoming a National Academy"
VISION
We forged a common organizational vision for NITVETas ..."A dynamic and internationally recognized
National Academy in training research and development for the TVET Sector".
CORE CHALLENGES
Provision of quality training and development of programs responsive to market demand and technology
department;
Development of curriculum and training support materials responsive to market demand;
Educate the workforce on environment preservation and development of worrk ethics;
Meet the challenge in the use of emerging technologies; and
Sustain the delivery of world class programs.
.
FUNCTION
NITVET`s vision highlights the awareness to the external environment which is characterized
by our open economy where the ultimate focus is the customer`s satisfaction,demanding
quality products and services.
Towards the achievement of the new challenges, NITVET has to assume the following
mandated functions:
Serve as a research and development arm of the government i n the field of TVET;
Develop curricula and program standards for various TVET areas;
Develop and implement an integrated program for continuing development of trainers,
teachers, instructors, supervisors and managers within the technical education and skills
development sector; and
Develop program and projects which will build up institutional capabilities within the sector.